æquō was founded by Tarini Jindal Handa in 2022, as India's first collectible design gallery. Under the vision of creative director Florence Louisy, the experimental project based in Mumbai introduces global designers to fine Indian craftsmanship, giving global importance to the country's artisanal heritage.
PHILOSOPHY AND PROCESS
A space where three forces meet with equal intrigue: makers, designers and materials. Our mission is to reshape the relationship between them, to reveal their value and potential. We thoughtfully develop furniture and interior objects that emphasize this intersection.
By inviting global minds to work locally, we adopt and create new lenses and unique languages to revisit Indian heritage. Contemporary designers encounter India's diverse and profound techniques through æquō's extensive network of artisans. These makers, who work with an astonishing sensibility toward our country's varied raw materials, are placed in dialogue with designers to explore what happens when the familiar seeks the unknown. In this grand design adventure, we create unique collectible pieces. Each of them carries a story rooted in India, yearning to be told to the world at large.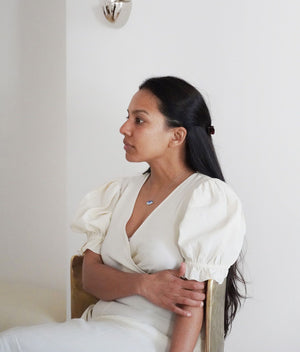 Tarini Jindal Handa is the founder of æquō.
A third generation patron, she was raised in a culture of supporting the arts; her grandmother founded the Kanoria Centre for Arts, the artist residency in Ahmedabad, and her mother founded Art India magazine. Collecting, supporting craft clusters and commissioning artisans were pillars of her upbringing. Her family are noted for their commitment to architectural preservation.

After studying fashion marketing at the American University of London, Tarini returned to Mumbai to open the country's first multi-brand fashion store, Muse. The boutique was known for introducing international labels to the Indian market, as well as for incubating local design talent. Joining the family business, Tarini added to the household name JSW with residential developer JSW Realty. Building on her interest in architecture, the sustainable real estate venture approaches interiors by commissioning the finest artisans from across India. The enterprise thoughtfully considers the evolving Mumbai skyline as public art on the grandest scale. Fusing her interests in design, craftsmanship and patronage, she founded æquō in 2022.