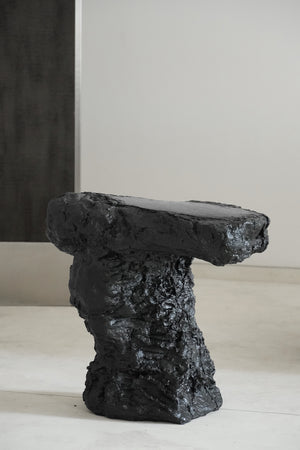 For this experimental project around materiality, æquō introduced French designer Frédéric Imbert to the Dhokra community in Chattisgarh, known for their ancient lost-wax metal casting technique. After a period of research into the craft, which had captivated Imbert, the process in creating the guéridon began with an exploration of shape in his Paris studio. Imbert's signature work is sculptural and solid and, unusually, he builds up his forms with matter, rather than carving into it.

The side table for æquō was hand sculpted entirely by his own hand using recycled paper and he did so while considering the mysterious black Dhokra wax. In the second stage of the development, the prototype exhibited by Aequo was created in the workshop within our Mumbai gallery. A solid body of wax from Chhattisgarh - a mix of beeswax, charcoal and plastic waste - was cast according to Imbert's mould, deconstructing the multiple stages of the Dhokra technique, while at the same time taking the material that is usually lost in the process and giving it new permanence.

In future pieces for the series, Imbert will continue this distillation, investigating the various materials used in Dhokra, beginning with the earthen core and then, finally, the metal for which the technique is famous.