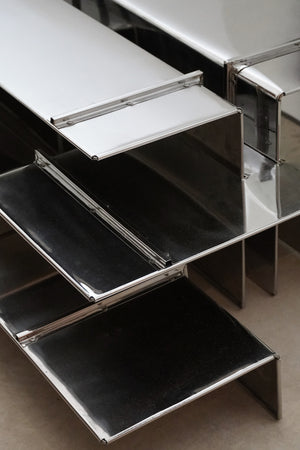 Wendy Andreu



Our collaboration with Wendy Andreu,
a Paris-based graduate of the Design Academy Eindhoven, is exemplary of the flexibility of our creative process.

In the development of her console, low table and light for æquō, Andreu adapted her strong signature style to work with one of the most humble and, perhaps, underrated metal techniques in India. Taking her 2022 Staple Series as a starting point, where she saw a similar structure to the stepwells of India, Andreu was inspired to replace its sharp aluminium sheets with the softer lines of traditional patra peti box makers who are found across our country. Working with our friend Kamlesh, a street-side vendor in Kumbharwada, Mumbai, æquō brought a fresh perspective to the welding of Andreu's work, adding the rivets of a trunk and the high shine polish of a tiffin lunch box. The pieces represent a subtle evolution of Andreu's aesthetic, immediately recognisable as her signature design but handmade in India.

For æquō, the representation of a previously anonymous workshop, which has no history of working with an international designer, is important to our inclusive programme and to our point of view that craftsmanship is not always rarefied but is indicative of skill.